Mahabharata Quotes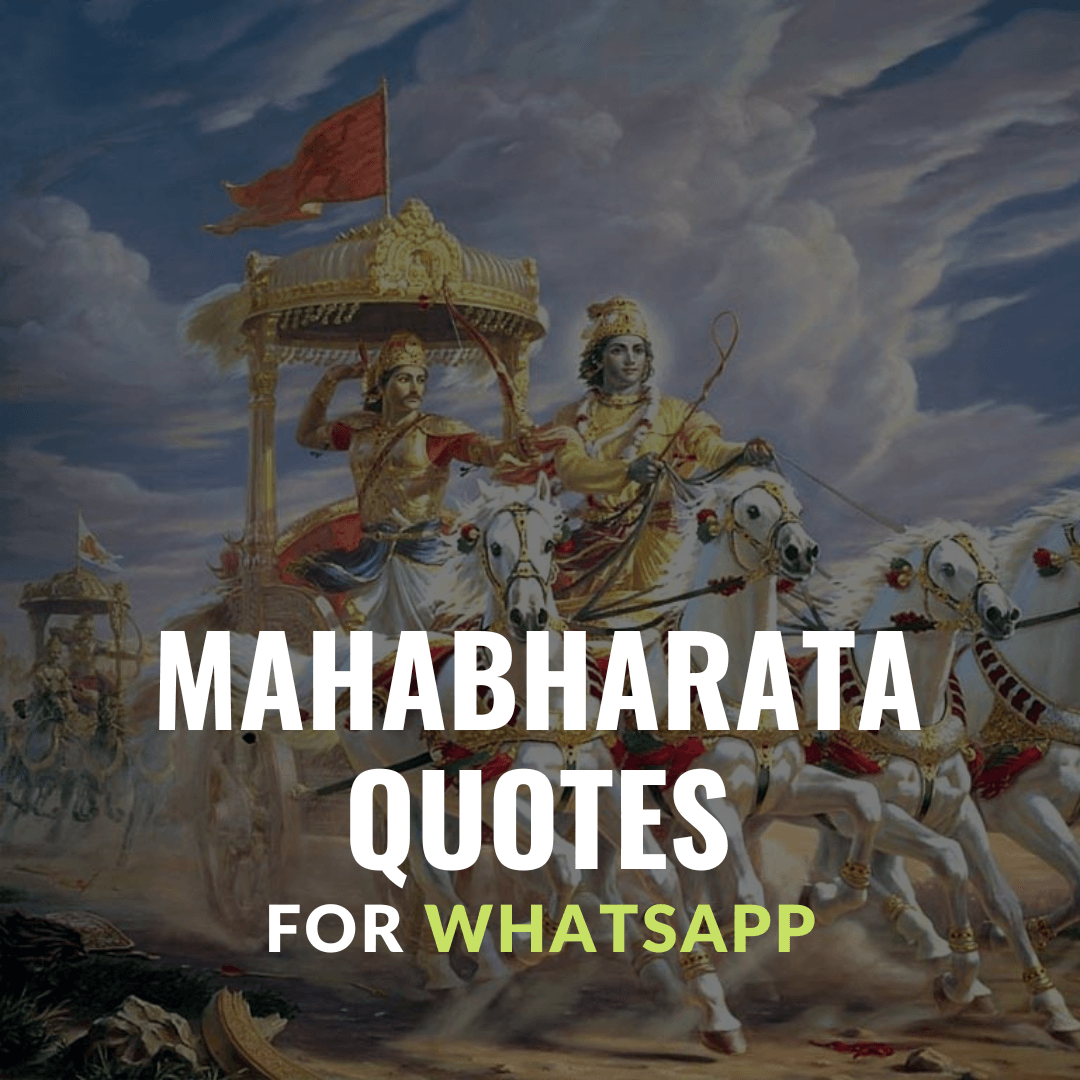 Mahabharata Quotes: The Mahabharata Is One Of The Two Major Sanskrit Epics Of Ancient India In Hinduism. It Narrates The Struggle Between Two Groups Of Cousins In The Kurukshetra War And The Fates Of The Kaurava And The Pandava Princes And Their Successors. Mahabharata Quotes, Mahabharata Quotes In English, Krishna Mahabharata Quotes, Quotes On Mahabharata, Best Quotes From Mahabharata, Mahabaratham Quotes, Life Quotes From Mahabharata, Mahabharat Best Quotes,
A man should avoid these six like a leaking boat in the ocean: a teacher who does not teach, a priest who has not studied, a king who fails to protect, a wife who is abusive, a cowherd who wants a village and a barber who wants a forest. – Vidura Niti
---
Mahabharata Quotes
Shared 299 Times Today
Knowledge begets humility, humility makes one worthy, true worth brings in wealth, good acts bring in happiness. Wealth if used for righteous acts brings in happiness. – Devavratha to King Shantunu
---
Mahabharata Quotes
Shared 337 Times Today
Fools offend the wise one with unjust rebukes and slander. But those who slander incur sins on themselves. On the contrary, the wise one, by forgiving the offence becomes liberated from sins. – Udyogaparva, Mahabharata
---
Mahabharata Quotes
Shared 59 Times Today
Do your duty and shape your destiny. That is the secret of life. Oh Man! Your own hands hold your own destiny. – Lord Krishna To Pandavas
---
Mahabharata Quotes
Shared 121 Times Today
The biggest drawback of anger is that it cannot differentiate between good and bad. – Bhishma Pitamha to Arjuna
---
Mahabharata Quotes
Shared 231 Times Today
A wound inflicted by arrow heals, a wood cut down by an ax grows, but a wound inflicted by harsh words does not heal. Arrows of different sorts can be extracted from the body, but a word dart cannot be drawn out, for it is seated in the heart.
---
Mahabharata Quotes
Shared 350 Times Today
Conquer anger with forgiveness, win the wicked with kindness, educate the niggardly (ungenerous with time, money etc) with generosity, overcome injustice with truth. – Udyogaparva, Mahabharata
---
Mahabharata Quotes
Shared 96 Times Today
Words are invaluable , speak them if you must. Weigh them carefully before you speak them out. – Yudhishthira to Draupadi
---
Mahabharata Quotes
Shared 109 Times Today
There is love in friendship. Friendship is greater than life. The one who wins the heart of a friend, has won the world. – Lord Krisha to Sudama
---
Mahabharata Quotes
Shared 154 Times Today
Arrogance does not suit warriors because it shows weakness. Learn to conquer your arrogance. Learn humility. For humility leads to progress. – Dhronacharya to Dhuryodhana
---
Mahabharata Quotes
Shared 348 Times Today